Cultural Classes Are So Much More Than Fun!!!
Parker's Cultural Department offers a variety of enrichment programs for youth and adults at PACE Center and Mainstreet Center. Studies have shown that arts teaching and learning can increase student's cognitive and social development. The arts can be a critical link for students in developing the crucial thinking skills and motivations they need to achieve at higher levels.
Nov. 17, and 24 at

4:30 PM
Create a beautiful painting using an eyedropper to place your watercolor paint. You will learn about the primary and secondary colors and use them in your painting. Wet paper will help colors swirl around and blend, making new colors as they go. Paintings will be mounted to their very own frame. Register online.

Understanding Color, Essentials for Painting
Ages: 18+ years


Nov. 7 thru Dec. 12
A workshop with Jeannie Paty for beginners and intermediate oil painters who want to learn the fundamentals of color and value relationships plus fresh color mixing techniques to strengthen their painting skills and discover their own artistic voice.  Registeronline.
Ages: 13 and up


Nov. 22

,

9:00 AM – 11:00 AM
Drawing still life compositions can be tricky to master. This class will help you to size up the true proportions, glean the correct lighting and draw a tonal replication. Register online.
Ages: 15 and up


Nov. 18, 2:00 PM – 4:00 PM
Create a piece (or two!) of personal unique jewelry using colored beads. Students will have the choice of dozens of colors and shapes of beads, and will use wire or chain to create and wear home their very own jewelry. Register online.

Nov. 29 at 7:30 PM
A native of Denver, Colorado, Dave Villano was named after the biblical figure King David, who wrote most of the biblical Psalms, Dave has created his own style of spiritual music. Come and enjoy Villano's rousing selection of traditional, Celtic and contemporary holiday songs.
Purchase your tickets online.
A Classic Parker Holiday  with the Parker Chorale and Parker Symphony Orchestra

Dec. 5 & 6 at 7:30 PM
A Classic Parker Holiday returns to the PACE Center on December 5th and 6th. During this hometown performance, the Parker Chorale and the Parker Symphony Orchestra have collaborated to bring a delightful mix of well-known seasonal selections.
Purchase your tickets online.
Dec. 11-14
Get in the holiday spirit as Scrooge finally sees his life clearly enough to transform selfish greed into generous love, the greatest Christmas gift of all. An exciting new production based on the classic tale by Charles Dickens co-produced with Inspire Creative.
Purchase your tickets online.
---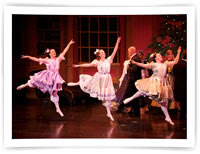 Dec. 18-21
Wrapping up the holiday season is The Nutcracker of Parker. Colorado School of Dance, Douglas County's premier dance school, presents the 11th Anniversary of its annual magical production of Tchaikovsky's holiday classic.
Purchase your tickets online.
---
Parker Artists Guild presents
DUETS and REFLECTIONS
Art Opening and Artist Reception:

Nov. 20th




6:00 PM – 8:00 PM
Exhibit runs Nov. 20 thru Jan. 9
This special art exhibit features two unique concepts that submitting Parker Artist Guild members can choose from.
DUETS allows two artists to come together and create two separate pieces that reflect a common theme of their choice. The second concept allows a single artist to submit a piece around the broad theme of REFLECTIONS.
Pieces of any medium can be submitted, and selected pieces will be juried and hung throughout the PACE Center.
Opening reception will take place on Nov. 20th from 6::00 PM to8:00 PM. The exhibit runs from Nov. 20 thru Jan. 9.
Visit the Parker Artists Guild website for more information
PARKER ARTS CALENDAR