---
April 10-19

In their desire to reverse a curse cast by a witch that has left them childless, a baker and his wife must find the ingredients to remedy their situation. Follow Cinderella, Little Red Riding Hood, Jack (who climbed the beanstalk), Rapunzel, and the baker and his wife that tie them all together as they go into the darkness of the woods.
Although theater-goers may be used to the show's spectacle and special effects, especially after the blockbuster Disney movie, the Mainstreet Theater space is the ideal venue to allow audiences to experience the simple emotional intimacy inherent in the show, while highlighting the straightforward message of the story. With an adult cast of professionals and local favorites, this telling has something for young and old (patrons are encouraged to use their own discretion when bringing young children). Join the characters we all know and love and learn the new and difficult lessons they discover as we find out that "the end" isn't always the end.
Parker Arts is teaming up with Parker Theatre Productions, the folks who brought you Guys & Dolls, Oklahoma! and Fiddler On the Roof, to present Stephen Sondheim and James Lapine's Into the Woods: a modern musical look at the beloved Brothers Grimm fairy tales.
Music and Lyrics by STEPHEN SONDHEIM
Book by JAMES LAPINE
Originally Directed on Broadway by James Lapine
Orchestrations by Jonathan Tunick
LOCATION:
Mainstreet Center
SHOWTIME:
Friday, April 10 – 7:30 PM
Saturday, April 11 – 2:00 & 7:30 PM
Sunday, April 12 – 2:00 PM
Friday, April 17 – 7:30 PM
Saturday, April 18 – 2:00 & 7:30 PM
Sunday, April 19 – 2:00 PM
For tickets or more information call our Box Office at 303.805.6800 or go online at www.ParkerArts.org<http://www.ParkerArts.org>
Purchase your tickets online.
---
Christopher O'Riley: Out of My Hands Concert at PACE Center
The classical crossover pianist and host of NPR's "From the Top," astonishes with music from Rachmaninoff to Radiohead.  As a prestigious artist, pianist and national media personality, Mr. O'Riley has dazzled the world over on stage, the radio and his records. His memorable interpretations of traditional and popular repertoire make him a cherished bridge between musical tastes, genres and audience worldwide.
In this special performance, Christopher O'Riley will provide a residency opportunity where members of the Evans Choir will rehearse and perform choir arrangements of Joni Mitchell with him on stage. The Evans Choir is a chamber choir made up of professional singers in the Denver area and select students from the University of Denver Lamont School of Music.
Catherine Sailer, founder-conductor of the Evans Choir, spoke about Christopher O'Riley's arrangements of Joni Mitchell's songs. Sailer noted that the arrangements are "highly composed" and "rhythmically complex" pieces. The arrangements include: "Cactus Tree," "I had a King," "Song to a Seagull" and "The Pirate of Penance."
LOCATION:
PACE Center
SHOWTIME:
Saturday, April 25 – 7:30 PM
Mr. O'Riley's exquisite and poetic interpretations have granted him phenomenal reviews and several recording contracts with labels like Sony Classical. His warm personality has brought him to host NPR's "From the Top" for the last 10 years. Christopher O'Riley differs from other artists in two ways. First, his repertoire spans classical styles, from Rachmaninoff, Beethoven, Chopin, Ravel and Busoni to contemporary artists such as Radiohead, Nirvana, Pink Floyd and Elliott Smith. He is the de?nition of a Classical Crossover artist.  Second, O'Riley 's unique, passionate and heartfelt piano interpretations of both classical and popular  music  create unforgettable musical performances and astonishing audience experiences.  His most famous recording, Radiohead "True Love Waits" album, was awarded four stars in Rolling Stone magazine, along with many other reviews available in the attached press kit. Most importantly, it has also created a dedicated and diverse fan base that appeals to all ages, uniting them through music.As host of the popular NPR music program, From the Top, Mr. O'Riley is well-known for his eloquent and compelling musings on music and popular culture. His latest performances stretch the piano beyond the classical repertoire and into the rich uncharted territory of contemporary and alt-rock. Announcing the program from the stage allows Mr. O'Riley to share discoveries, such as World Premieres this past season by From The Top alum, Tim Woos (a piece written when he was 15 years old). Kenneth Fuchs' set of "Falling Cannons," inspired by texts drawn from Don DeLillo's 9/11 novel, Falling Man, and David Neal Lewis' "Tale of Three Kitties." The music flows seamlessly from one genre to another, from the familiar to the fresh. From Robert Pollard to Rickie Lee Jones to Maurice Ravel; A Perfect Circle to Piazzolla; Thomas Ades's "Darknesse Visible" to Tears for Fears' "Mad World" to Toru Takemitsu to Nine Inch Nails.
Christopher O'Riley is recognized as one of the leading American pianists of his generation, touring extensively as a recitalist and chamber musician and appearing with every major orchestra. He has released numerous recordings on a variety of labels including SONY, Harmonia Mundi and now White Tie Records.
---
---
May 2 at 7:30 p.m.
Every year, the Parker Chorale selects a school to be the recipient of their Parker Chorale Vocal Music Program Grant. During this special performance, the Parker Chorale, joined by this year's recipients Legend High School's Cantores Choir, will be covering a wide variety of songs from spirituals, pop, and folk, to classical music (both serious and fun). Selections include the spiritual "Deep River," an arrangement of Billy Joel's "And So It Goes," and so much more.
Purchase your tickets online.
---

May 8 at 7:30 p.m.
Only a few tickets left!
Still led today by founding member and lead singer Doug Gray, The Marshall Tucker Band represents a time and place in music that will never be duplicated. With hit singles like "Heard It In a Love Song," "Fire On The Mountain," "Can't You See," and "Take The Highway," the Marshall Tucker Band earned seven gold and three platinum albums.
Purchase your tickets online.
---
May 13 at 7:30 p.m.

Natalie MacMaster and Donnell Leahy have created a new show to bring their fans the next chapter in their musical and personal journey. For the first time on stage, they'll feature their children alongside dancers and singers from the traditions of their hometowns of Cape Breton and Lakefield, Ontario. The evening will highlight the unique talents, influences, and stories of the first family of traditional fiddlers through dancing, singing, and, of course, world-class music-making.
Purchase your tickets online.
---
May 15 at 7:30 p.m.

The Parker Symphony Orchestra is serving up Latin flavor for your ears' enjoyment with the spicy sounds of world-class composers from Spain, France, and the United States. For this special performance, PSO is joined by Extasis a four-piece ensemble that was founded in 1998 by bandoneonista Evan Orman and violinist Erin Furbee.
Purchase your tickets online.
---
July 17 – August 2
Shakespeare's Romeo and Juliet is transported to 20th century New York City, as two young idealistic lovers find themselves caught between warring street gangs, the "American" Jets and the Puerto Rican Sharks. Their struggle to survive in a world of hate, violence and prejudice is one of the most innovative, heart-wrenching and relevant musical dramas of our time.
Tickets go on sale to the public on May 1.
Presale tickets available April 15 to Parker Arts Family Circle members. Become a Family Circle member today and get your tickets before they go on sale to the public.
Visit www.ParkerArts.org for more information on becoming a Parker Arts Family Circle member.
---
New Inspire Creative Theater Classes Continue into the Spring…
Register by Friday, April 3rd. 
Classes start next week!
---
Creative Discovery
Ages: 5-6
Come explore your creativity! This class will introduce young students to being creative with movement, storytelling, dramatic play, and art activities. Students will be led through activities, games, dances, and creative adventures all designed to build their creative skills.
Instructor: Inspire Creative
Location: PACE Center
Fee: $75 R / $82 NR
3462 W, April 8 – May 20, 4:30 p.m. – 5:15 p.m.
---
Funky Fairytales
Ages: 7-11
The Little Red Hen Makes a Pizza, The Princess and the Bowling Ball, The Three Dragons Gruff??!! We start with the fun fairytales we already know, add some creativity and teamwork and end up with 6 weeks full of funky fairytale fun. From sword fighting to fairytale commercials, students have a ball as they learn basic acting skills and dream up interesting new happily-ever-afters for their favorite characters. Activities promote teamwork, creativity and literacy skills while building self-esteem. Our final class meeting includes a showcase of our favorite exercises and stories we acted out during the week for parents and friends.
Instructor: Inspire Creative
Location: PACE Center
Fee: $100 R / $110 NR
3468 W, April 8 – May 20, 5:30 p.m. – 6:30 p.m.
3470 M & W Combo April 6 – May 20
---
Teen Improv Intensive
Ages: 12-18
Take your improv to the next level! This class will expand your improvised world and allow performers to perform in professional style improve games that emphasize character, relationship and on-your-feet storytelling. The class will culminate with an improve show for friends and family. Previous experience is not necessary.
Instructor: Inspire Creative
Location: PACE Center
Fee: $115 R / $130 NR
3482 M, April 6 – May 18, 6:45 p.m. – 8:00 p.m.
3485 M & W Combo April 6 – May 20
---
Teen Musical Theater: Dance & Movement
Ages: 12-18
This is a continuation of Musical Theater Voice. Students will focus on musical theater dance with an emphasis on tap, jazz and some ballet, as well as stage movement concepts and skills such as stage combat. Students will study specific Broadway musicals and choreography styles from iconic choreographers such as Jerome Robins, Bob Fosse and others. They will learn dances appropriate to the music, era and style of various Broadway shows. This class required moderate to high physical energy.
Instructor: Inspire Creative
Location: PACE Center
Fee: $125 R / $137 NR
3483 W, April 8 – May 20, 6:45 p.m. – 8:00 p.m.
3485 M & W Combo April 6 – May 20
---
May 16




10 a.m. to 6 p.m.


Mainstreet Center
The Competition
There are three different competitions in the Rover Rally. Contestants can apply to compete in any of the three different events.
The Barrel Race
In this competition an autonomous vehicle will attempt to complete a figure-8 around two large barrels with a perimeter wall around the course. This will be a timed event.
Closest to the Pin
Like the traditional golf challenge, autonomous rovers will have to travel across the parking lot to arrive at a target on the ground. Score will be the distance from the center of the target.
Launch Ramp Long Jump
Manually-controlled rovers will compete for distance as they launch off of a 3-foot high launch ramp.
Come join the fun at Parker's new hometown robotics competition and exhibition. This event is free and open to the public for spectating.
For more information, visit www.PakerArts.org.
---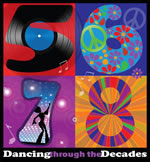 5,6,7,8
May 20-21
The spring performing arts showcase presented by On Pointe School of Dance that highlights dance, musical performances, photos and stories from the 50s, 60s, 70s and 80s. Come visit the past of Parker, Colorado, and the good old USA with an artistic twist.
Purchase your tickets online.
ParkerArts.org/education for a complete listing of classes and auditions.
Other Upcoming Shows to Watch for include: